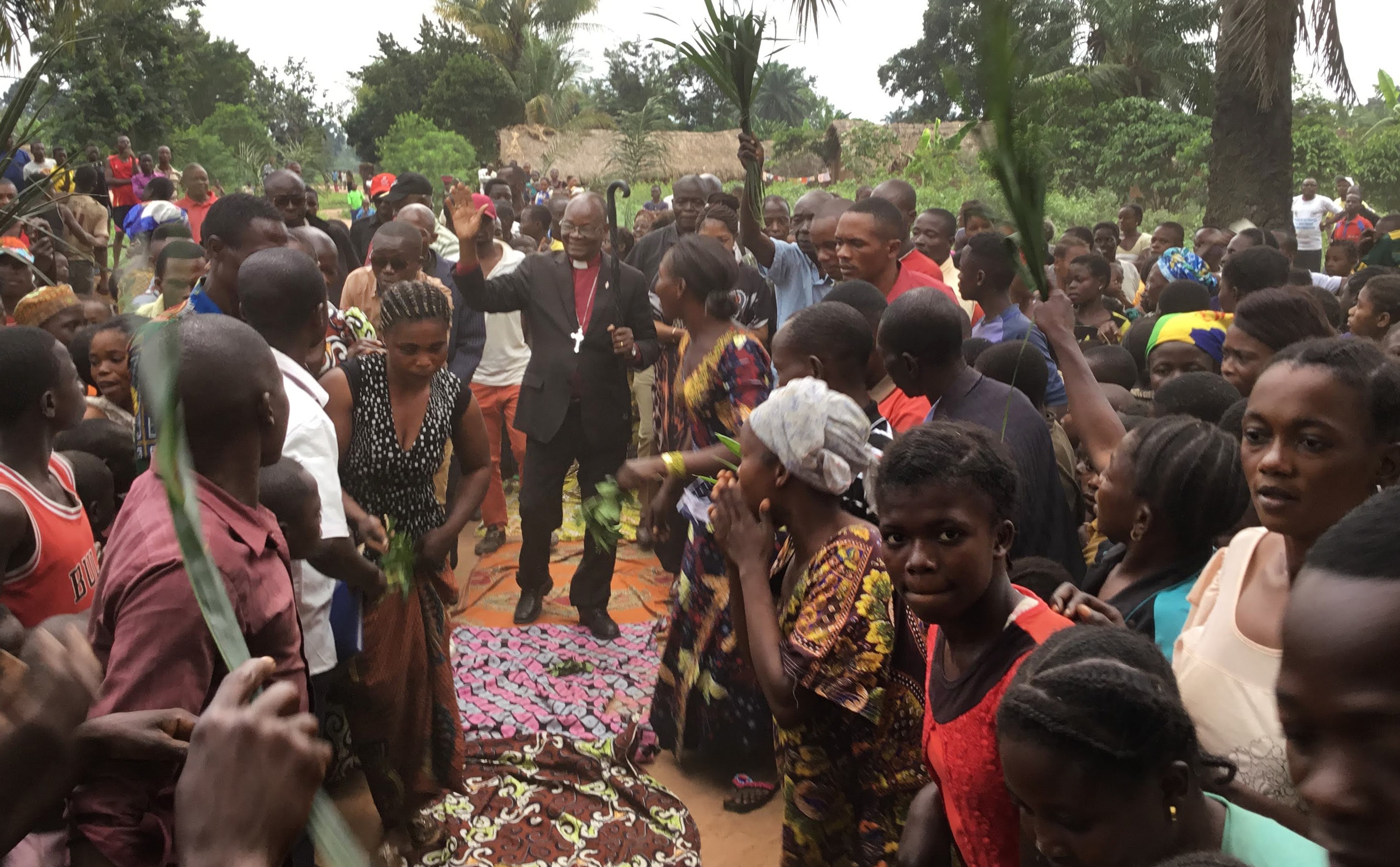 People in the village of Samba, Congo, line the streets to welcome East Congo Bishop Gabriel Yemba Unda, who spent 10 days in late September and early October visiting all seven districts in the remote East Congo Conference. It was the first time many United Methodists in the area had ever seen a bishop. Photo by Judith Osongo Yanga, UM News.
By Judith Osongo Yanga
Dec. 13, 2019 | TUNDA, Congo (UM News)
United Methodist Bishop Gabriel Yemba Unda made his first trip to the most remote areas in the East Congo Conference to spread the word of God and see first-hand the "rural realities" facing United Methodists.
It was also the first time many United Methodists in the area had ever seen a bishop.
The East Congo Episcopal Area, which includes three annual conferences, is blanketed by forests. Access to some villages and cities is difficult, with many roads impassable.
Unda said his visit to every district in the conference is a way of experiencing the realities of the area and evangelizing to the thousands of people living in these parts.
"As a pastor, I want to meet people of God who live there. I receive several reports from the pastors who come to the annual conference meetings who tell me about the difficulties they encounter in reaching the conference venue. (They talk about) the difficulties their women experience during childbirth due to lack of health facilities; difficulties related to the education of young children for lack of a school built of durable materials; and in the end, the inaccessibility of these places and the bad conditions of the roads.
"That's why I decided as pastor and in my episcopal duties as a bishop to go out of my office to experience these rural realities," he said.
…
In the course of his nearly 10-day journey, Unda took the opportunity to dedicate more than 10 churches built with the help of United Methodist partnerships and local contributions.
Unda said he needed to see the people and places with his own eyes.
"My eyes flow with tears when I see the people of God thirsty to see and receive their leaders. … Despite the state of the road, I asked God for strength and energy … I had to spend the night with all my delegation, even in the middle of the forest, as long as we knew where God sent us."
---