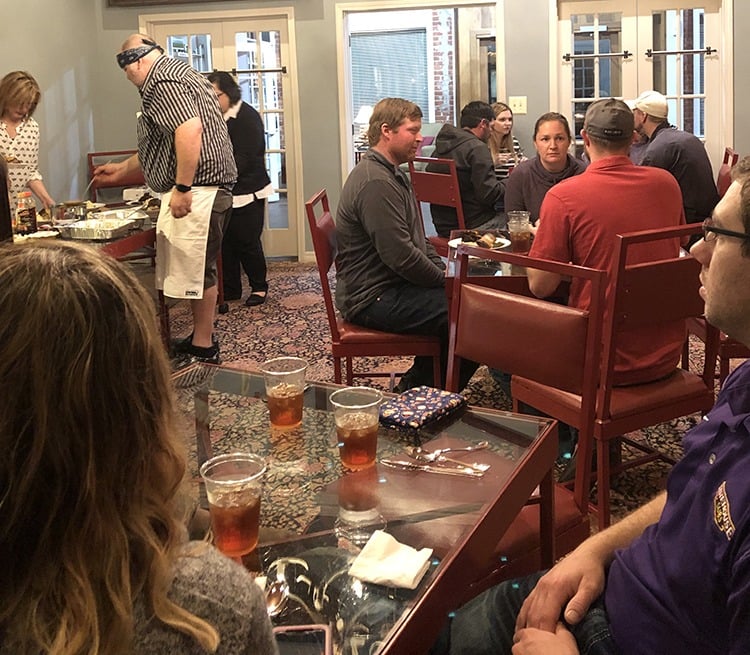 When Pastor Silvia Wang and others at First UMC Archer City realized their church did not have many young adults, they pondered what to do. The idea of having dinners for young adults came up, thus their New Faces New Spaces opportunity, named "Grub and Grace," was born.
Rev. Wang recently spent some time with us to explain how Grub and Grace came to be and how her congregation and the city have been pivotal in its growth.
How did the concept for Grub and Grace come about?
In September 2018, two church members, my children, the youth ministry director and I attended the "New Faces, New Spaces" Vision Day at First United Methodist Church in Decatur. We talked about ideas for New Faces and New Spaces. We realized our church did not have many young adults, but that there are young adults we know who are living in Archer City and Wichita Falls (which is close to Archer City).
The idea of having dinners for young adults came up. We realized that we could ask Chef Juston Liles (who recently moved to Archer City and was attending our church) to see if he would be interested in cooking the first few monthly dinners for this new young adults ministry. After Vision Day, I invited other church leaders including the chairpersons of Missions and Evangelism and the 2018 and 2019 chairpersons of Administrative Council to be part of this Vision Team. This became the Team that prayed about and decided on how to make this new ministry a reality.
My children and youth ministry director, Megan Densmore, came up with the name "Grub and Grace" for our new ministry for and with young adults. Other church members know the owners of the Spur Hotel in Archer City and helped to secure the Spur Hotel's dining room as the New Space for Grub and Grace. My Vision Team and I put together the New Faces New Spaces Micro-Grant application, which was submitted to the North Texas Conference. We were thrilled to receive a micro-grant of $1,000 from the North Texas Conference to start Grub and Grace. Another church member submitted an article about Grub and Grace and about our church receiving the Conference micro-grant; this article was published in Archer County News.
---