2014/10/05
Christ Church, Mountain Top, Holy Communion
Children,
Genesis 25.19-34 (birth and birthright)
Message,
Genesis 27.1-38 (blessing)
I
LOVE the Jacob story (Story and Baggage)
If doing the readings (on note sheet):
he's got BAGGAGE
Sibling rivalry, daddy issues
Jesse/Caleb:
Baby all done now
"Because we love him more."
Me:
biological, adopted; accidental, chosen
Parent's
job is to give their children someone to blame in therapy.
Claim
your baggage
Rent,
"La Vie Boheme", Roger and Mimi
Roger: No one's perfect. I've got baggage.
Mimi: Life's too short, babe. Time is
flying
I'm looking for baggage that goes
with mine.
I
LOVE the Jacob story (Story and Stereotype)
Delightful, delicious story …
All the extremes of stereotypes are present
Hunter
– gatherer
Oldest
– youngest
Redneck
– metrosexual
He-man – momma's boy
Fur?!!
Missing stereotype:
the "Eagle Scout" – you don't see a "good guy" in the story … maybe because
none of us really qualify, if you scratch a little beneath the veneer.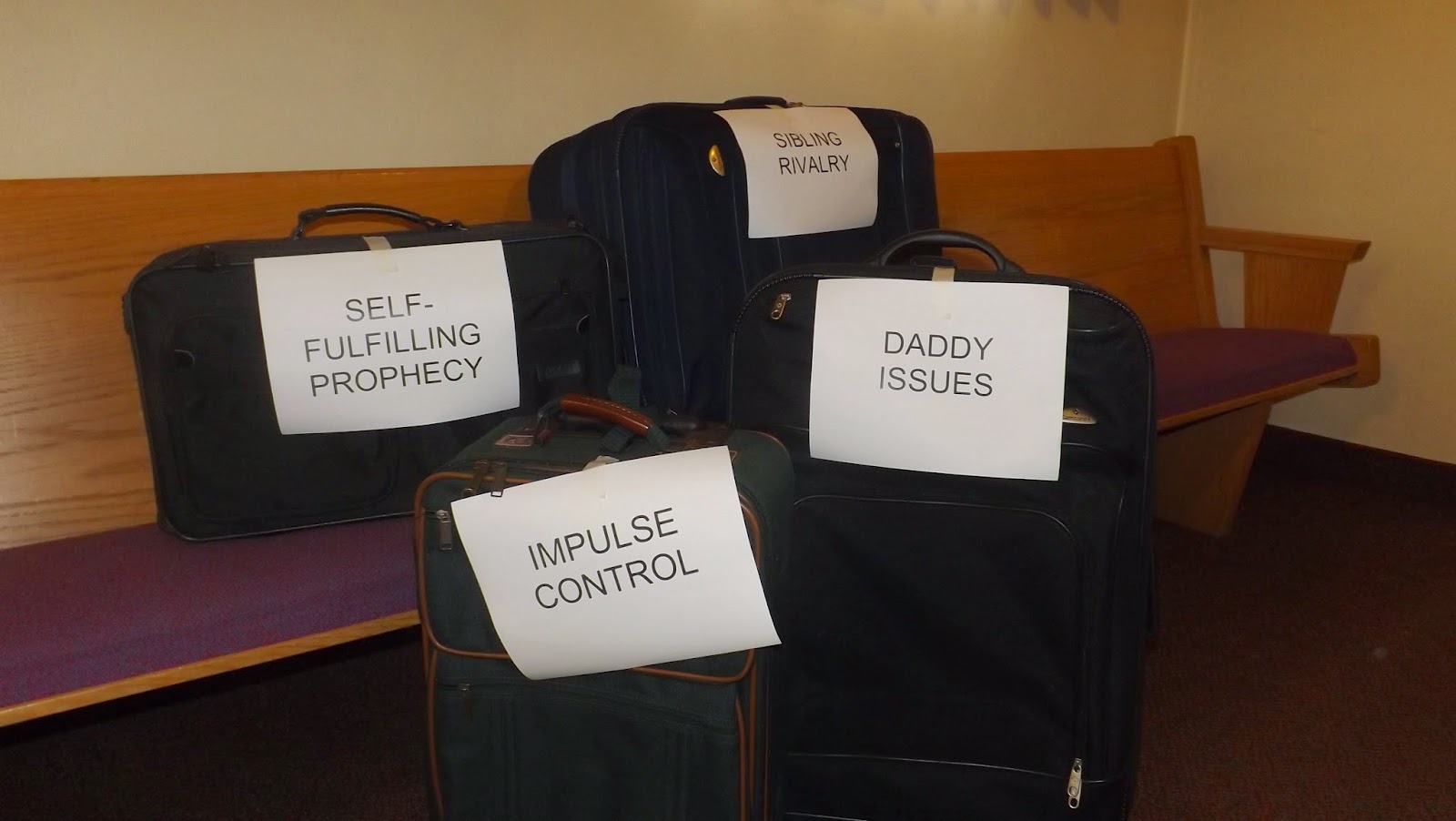 I LOVE the Jacob
story (Story and Tension)
Self-fulfilling
prophecy (what looks like one)
Does Rebekah tell Isaac?
Does Isaac try to prevent the
prophecy from happening?
Voldemort in the Harry Potter series
– accidentally creates his doom
Impulse buying
Can any bowl of soup be that good?
Intrigue and
disguise
Will the cover be blown?
What happens when he is discovered?
His brother makes plans
to kill him – talk about baggage!
Favoritism and
competition in family systems
Jacob's father, Isaac, is the
younger son
Jacob favors the younger sister of
his two sister-wives
Jacob favors his younger sons, to
the younger sister
I
LOVE the Jacob story (Story and God)
It's a STORY!
"Story
is the fundamental means of talking about and listening to God, the only human
means available to us that is complex and engaging enough to make
comprehensible what it means to be with God" (Hauerwas & Willimon, Resident Aliens, pp 54-55).
God
is interested in people, real people, true "characters" (H&W, p 65). We
think that God's main interest is righteousness or holiness as some abstract
standard. But, no. God IS righteous. God IS holy. But God's interest is people,
God's desire is to get close enough, to be, in the language of the Bible, "with
you", so that we get to know each other as friends.
We
are God's, God's friends, God's people, not because of anything we have done,
not because of anything we are. Jacob is no "Eagle Scout" and is certainly no
better than his brother. There is no "good guy" in the story. Paul writes to
the Romans, "Even before they had been born or had done anything good or bad
(so that God's purpose of election might continue, not by works but by his call)
…" (Romans 9.11-12a). The Wesleyan term and theological word for this is Grace.
---